Welcome To Forever Green Windows
Stylish, Custom-made Double Glazed Windows & Doors
Discover energy efficiency, enhanced security, and year-round comfort.
Experience the Forever Green Difference!
At Forever Green Windows, we're dedicated to upgrading both your home's style and your year-round comfort. With energy efficiency becoming more important and the changing weather patterns, double glazing has lately gained increased interest among Sydney's homeowners.
We acknowledge the significance of selecting a credible and esteemed company. Boasting over five decades of collective experience and a pledge to offer only premium-quality products, we aim to be your dependable source for all double-glazed window needs.
We take pride in serving areas including the Southern Highlands, Western Sydney, Blue Mountains, Sutherland Shire, Wollongong, and South Sydney. Plus, we manufacture all windows in our Gregory Hills warehouse, where everything is made to order using state-of-the-art manufacturing equipment. 
Upgrade Your Home with Forever Green Windows
Transform your home into a stylish and energy-efficient sanctuary with our premium UPVC double glazed windows and doors. Experience the benefits of enhanced comfort, reduced energy costs, and added security.
 Get a free personalised quote today.
Casement & Awning Windows
Capture panoramic views while benefiting from excellent thermal and acoustic protection with our reliable
fixed window
solutions.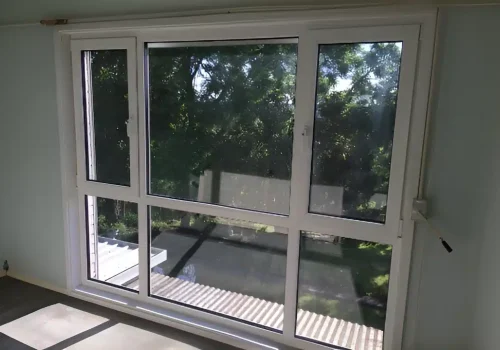 Experience effortless ventilation and unparalleled airflow with the versatility of tilt and turn functionality, enhancing your comfort at home.
Maximise your space with our uPVC sliding windows, providing ample room and optimal air flow for a fresh and spacious living environment.
Add Value to your Home with Premium UPVC Double-Glazed Windows and Doors
Enjoy improved energy efficiency and stunning designs, made to transform your living space into a haven of comfort and style.
Discover Our Double Glazed Doors
Upgrade your entryways with our range of double-glazed doors:
Start Your Home Transformation Today!
Enjoy the benefits of superior energy efficiency, enhanced security, and beautiful designs with our UPVC double glazed windows and doors.
Contact us now to receive a personalised quote and begin your home transformation journey with Forever Green Windows.
UPVC, or "unplasticised polyvinyl chloride," is a rigid plastic favoured in construction, especially for windows and doors.
Experience the advantages of UPVC Double Glazing:
Minimise heat loss and keep your home cool, optimising thermal performance.
Up to 80% reduction in external noise, providing a quieter and more tranquil home environment.
Multi-point locking systems for enhanced security and peace of mind.
Ensures minimal condensation, mold, and mildew for a healthier living environment.
Reduce energy costs and make your home more appealing to potential buyers.
Create a barrier against drafts and cold spots, ensuring comfort throughout the year.
Frequently Asked Questions (FAQs)
Upgrade your home with Forever Green Windows today!
Transform your living space with our premium double glazing solutions. Enjoy a healthier living environment, while adding value to your home.